Welcome to Roger Russell's
History Page About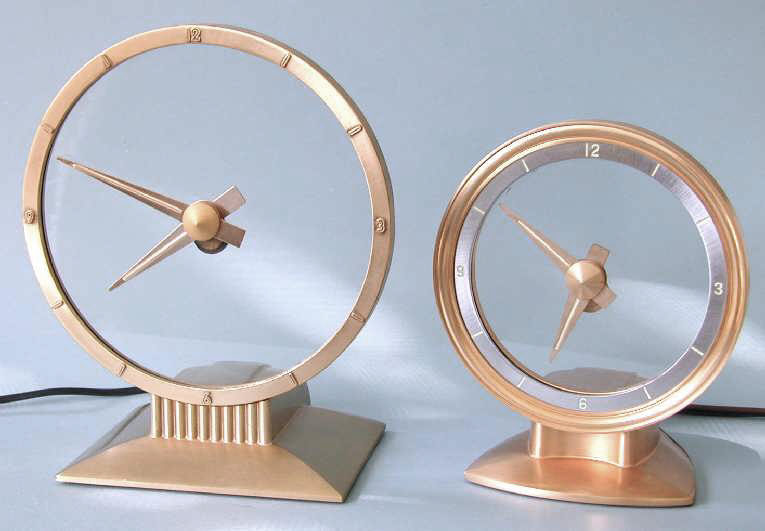 Jefferson Electric Clocks
and Other Jefferson Products.
These pages are copyrighted.
No portion of this site may be reproduced in whole or in part
without written permission of the author.
Jefferson clocks are fascinating to look at and have an appeal today as much as they did 56 years ago. On the left is the first and most popular Golden Hour clock. Next to it is the Golden Minute that was made several years later.
To my knowledge there is no other information on the web about the history of the Jefferson Golden Hour clocks or other products made by Jefferson Electric. Any additions, comments or corrections are welcome. I am a member of the National Association of Watch and Clock Collectors, Inc. Sorry, I don't know of any repair shops or the value of these clocks.

Here is the Jefferson clock family.

Front Row (left to right)

Back Row (left to right)

The Jefferson Electric Mfg. Co. began in January of 1915 The Company was named after President Thomas Jefferson, who was also an inventor. Initially, Jefferson employed 20 workers in a small four-story building at 426-430 S. Green Street Chicago, Ill. They made bell ringing and toy transformers and similar devices. By 1921, their major product was a magneto lamp regulator for cars. They also expanded into radio transformers in 1924.
Jefferson Electric Founders

John A. Bennan,
President

Original Building

James Charles Daley,
Chairman of the Board
In 1928 Jefferson merged with Chicago Fuse Manufacturing Company (founded in 1889), expanding its production to include fuses (Union and Gem) and related items. This was known as Chicago-Jefferson Fuse & Electric Co. Catalog number 33 came out in 1928 and contains 93 pages listing thousands of items including fuses and fuse fittings, switch boxes, outlet boxes, covers, fittings, rigid conduit fittings, vapor proof lamp fixtures and transformers. The transformers include bell ringing, signal, universal toy, sign lighting, gaseous tube and oil burner igniting types.
In 1928 there were three separate buildings referred to as Plants.
| | |
| --- | --- |
| | Plant No. 1 "At this Plant the UNION and GEM lines of fuses and boxes are made. This building also houses the executive offices." |
| 1500 S. Laflin Street, Chicago, Illinois. | |
| | Plant No. 2 "This plant is devoted exclusively to making the thousands of sizes and models of Gem Powerlets. A large stock is kept on hand for prompt shipment." |
| 501-511 South Green Street, Chicago, Illinois. | |
| | Plant No. 3 "Jefferson transformers are built at Plant No. 3. Every operation from cutting the steel to winding the coils is performed here under expert supervision." |
| 426-430 South Green Street, Chicago, Illinois. | |
Today, the buildings that were Plants 2 and 3 appear to be under the Eisenhower Expressway westbound ramp.

A move to Bellwood in 1931 consolidated the Plants.



Jefferson moved to a new 230,000 square foot building located on 19 acres of land at 840 S. 25th Avenue, in Bellwood, Illinois. Bellwood is about 12 miles west of downtown Chicago. The building is very large and is a very unusual design. The front extends for a whole city block and continues past the left side of the picture. The name at the Bellwood location was Jefferson Electric Company. At some time, there was also a Canadian office called Canadian Jefferson Electric Co., Ltd. 384 Pape Ave., Toronto, Canada.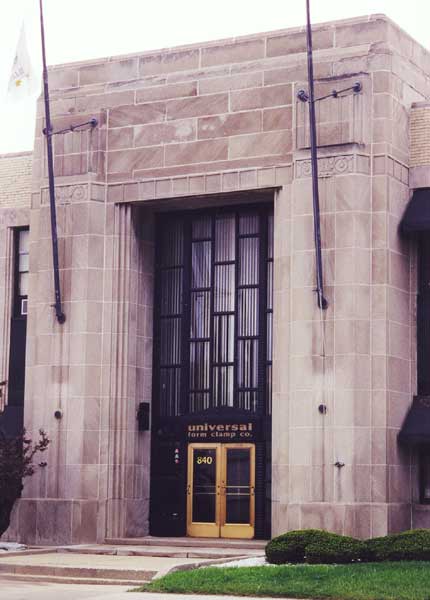 Jefferson was obviously set up for a big manufacturing operation and employing many people. In 1953, there were about 1600 employees. Later, the building was occupied by several businesses including Universal Form Clamp Co. and Chicago Locker. Perhaps the gold colored doors have been preserved the way they originally were when Jefferson was there. Thanks to Roger Zimmermann for the pictures he took in June of 1999.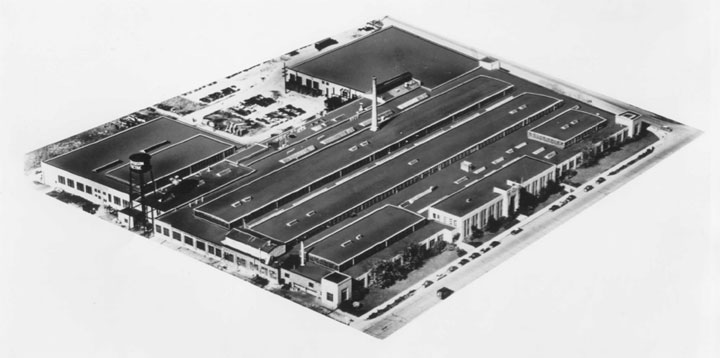 In the morning of June 14, 2006, there was a chemical explosion at the north end of the old Jefferson building at 840 25th Avenue. It caused several injuries and was a 5-alarm fire. 300 people were evacuated. The black smoke could be seen for miles. The building is currently occupied by the Universal Form Clamp Company that manufactures construction materials. The building was described as a 320,000 square foot building shaped like a horse shoe. The older picture above is from about 1958.

Fall River, Massachusetts Plant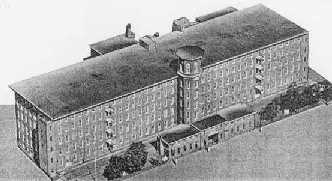 "Important among the advantages offered by the Fall River, Massachusetts plant of the Jefferson Electric Company is its ready accessibility to eastern seaboard manufacturing areas and principal Atlantic ports. The Fall River plant provides an additional 226,000 square feet of manufacturing space.
This area was noted for its skilled craftsmen, assuring the eastern plant of the Jefferson Electric Company of an ample supply of highly competent labor. " (From 1951 company information.)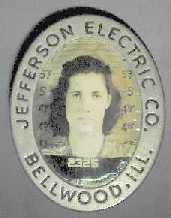 Here's a picture of an employee identification badge that was found in a box of miscellaneous badges, possibly from an estate sale. The thin metal badge measures 1-1/2" wide and 1-7/8" high with a 1-1/4" safety pin catch on the back. The badge was made by A.E. Co., Utica, N.Y. and weighs only 0.46 ounces. The frame is gold colored. The photo is covered with clear plastic and has yellowed slightly.
There are vertical numbers behind the woman that are in feet and inches and are in 3" increments. The employee number, 2325, is near the bottom of the photo and is hard to see. It's on a black card and is hung around her neck with a chain.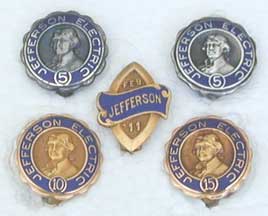 Jefferson offered employee recognition awards like the two sterling silver 5-year lapel pins. They have the head of Thomas Jefferson and say Jefferson Electric around the border with a 5 at the bottom. The pins are 9/16" in diameter and 1/16" thick. A safety pin catch is on the back. The left pin weighs 2.7 grams and the right one is 2.4 grams. They are both stamped "sterling" and marked "Spies." The imprints of Jefferson are slightly different and were likely made by two different sources.
The 10 and 15-year gold colored pins are the same sort of design but there is no indication of karat rating to indicate that they are made of gold or gold alloy. They both weigh 2.7 grams and are marked "Spies." They may have also been made by the W. G. Spies Company of Steubenville, Ohio
The center pin weighs 1.3 grams. It says FEB '11 indicating that it might be February 1911. This, of course, is before Jefferson Electric was founded. The pin may have been made for The Jefferson Glass House in Follansbee, West Virginia. That company was incorporated on February 25, 1907. It was later known as or incorporated into The Jefferson Lamp Company.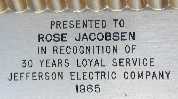 Jefferson had several long-term employees. What more appropriate award than a Golden Hour clock. This one was engraved:
"Presented to Rose Jacobsen in recognition of 30 years of loyal service. Jefferson Electric Company 1965"

A 1951 company brochure shows the officers to be (left to right): W. Scott Minter, Treasurer; Leopold Mauerer, Vice-President in charge of Engineering; J. M. Bennan, President; J. R. Ford, Vice-President in charge of Sales; and Edward J. Bennan, Vice-President in charge of Production.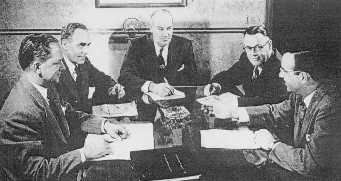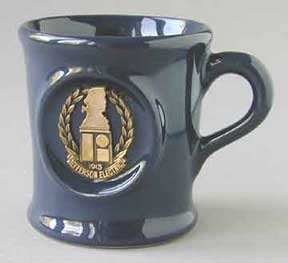 In 1967, Jefferson was purchased by Litton Industries and became Jefferson Electric, Division of Litton Industries, 840 S. 25th Avenue, Bellwood, Illinois 60104. By 1982, Jefferson Electric sales offices were located at 1400 Centre Circle Drive, Downers Grove, Illinois 60515-1021. This was about 8 miles southwest of the Bellwood plant.
This souvenir mug has a silhouette of Jefferson and the writing below says "1915, Jefferson Electric." The mug can be thought to have been made in 1915, which was the date that the company went into business. However, the vertical line and vertical line with the dot over it is the company symbol for Litton Industries. This dates the mug to have been made sometime after 1967.
The mug is very unusual. The relief design at the front is reminiscent of the impression left by an official stamp in sealing wax for a document that may have been used when Jefferson was President. The mug weighs a hefty 1.2 lbs. It is cobalt blue with gold highlights. It measures 3-1/4" across the top and is 4" high and holds 8 oz.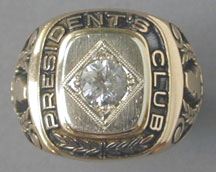 Here is a Jefferson Electric ring. The 1915 date again refers to the founding date and not when the ring was made. Also, on the side is the familiar Jefferson silhouette and symbol from Litton Industries, the same as that shown on the mug. The top of the ring says President's Club. I'm not sure of the origin of this club or if this organization still exists. Apparently, Presidents' Clubs existed at various companies besides Jefferson.
Although the stone in the center could be thought to be a diamond, it is actually called a "Diamonaire" simulated diamond. Literature that came with the ring is as follows: Diamonaire is the finest simulated diamond—alive with the fire, brilliance and color of nature's gem. Even the hardness is near that of diamond. Every Diamonaire simultated stone is cut and polished with a full 58 facets and designed into exciting jewelry that has the spirit of diamond to fire your soul…yet a price to cool your purse!"
Oddly enough, the literature say that "Diamonaire and the Cultured Diamond are trademarks of Litton Industries, Diamonaire Division, 200 E. Hanover Ave., Morris Plains, N.J. 07950—copyright 3-71 Litton", which is probably March of 1971. Inside the ring it says "Josten 10k." It was made by Josten's, Inc., Princeton, Illinois, 61356. Josten's specializes in class and specialty rings, etc. The 10k refers to the karat rating. Further information on karat ratings can be found on my gold reference page. The ring weighs 21.9 grams or about 0.77 ounces.
Another promotional item is this key retrieval medallion and keychain. Each one has a unique number stamped on it. The small text says "If found, drop in any mail PO box. Return postage guaranteed. 1473 Jefferson Electric Company Bellwood, Ill." This same sort of system had been used by hotels, etc. if you forgot to return your key. The medallion is registered at the time it is issued to you. It measures 1-1/4" in diameter and up to 1/16" thick. It weighs 10.2 grams or about .36 ounces.

An early promotional item is this 1947 pair of tongs celebrating the 25th anniversary of Jefferson Electric.
They appear to be made of aluminum and are 9 inches long.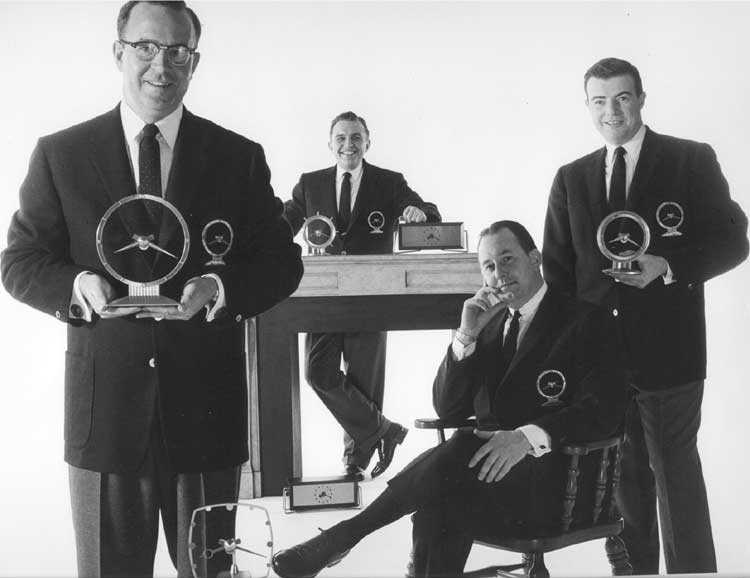 Several advertisements were created featuring the Four Men in blue blazers. A Golden Hour crest is on each of their jackets. The man on the right is Joe O'Malley. I was sorry to learn that O'Malley had passed away in 1977 at age 49. Thanks to Joe Jr. for finding this picture of his father on my page and to his daughter Megan for contacting me. Thanks also go to his wife, Joan, for further information. The man who is seated is thought to be O'Malley's boss, Joe Archibald, Sales Manager, Consumer Products Division.
On the left is an ad titled Rhapsody in Blue Blazer. Note that one man appears to be playing an old style cash register. Joe O'Malley is shown playing the bass in the background. On the right is an ad titled Wanted for Stealing the Show. Joe O'Malley can be seen on the right side.

Salesman Sample Case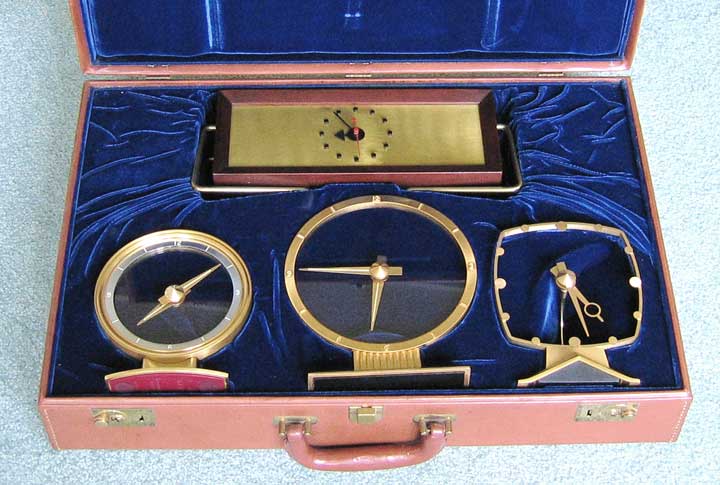 Here is a lovely sample case made of real leather. It was used by Joseph Nast, who was a salesman for Jefferson many years ago. Thanks to his son, Jim for making it available to me. It contains a Contemporaire, Golden Minute, Golden Hour and Golden Secret clock. They fit into cutouts in the case and the entire case is lined with blue velvet. The clocks are samples only and none of them have motors. These clocks have been preserved in this case with their original gold-plated luster. The display is so dramatic that, once seen by store managers or customers, it is understandable why the clocks were so popular. The case measures 24" wide, 16" deep and 5-1/4" high. It weighs 19 pounds. These sample clocks are shown in more detail on my individual Jefferson model pages.

Golden Hour Clock Production Began in Late 1949. See my Golden Hour Page. Despite the number of clocks that were made, the principal source of income remained in various kinds electrical components.
In 1984, Jefferson Electric was purchased from Litton by MagneTek, Inc. The purchase was mainly to gain control of the lamp ballast products. The company was then identified as Jefferson Electric, A Division of MagneTek, Inc., Downers Grove, IL 60515. A short time later the Manufacturing was moved to Athens, Alabama. The address then became Jefferson Electric, A Division of MagneTek, Inc., Athens, AL 35611.
MagneTek was founded in 1984 and manufactured lamp ballast, electric transformers and power conditioners. Later, other products were added such as electronic power supplies, chargers/converters, surface mount power inductors and variable speed drives. The company doesn't make consumer products, but supplies such customers as Trane, Carrier, Jacuzzi, Caterpillar, Otis Elevator, Xerox, IBM etc.
In August 1991, Jefferson clock division was closed and the employees were laid off. The Golden Hour name, clocks and small stock of parts went up for sale. After several potential sales fell through, it was sold to Timesavers and is called The Golden Hour Clock Company, 7745 E. Redfield Road #500, Scottsdale, AZ 85260. Except for the few remaining parts acquired in the purchase, this was the end of the production of Golden Hour clocks and all the other Jefferson clocks.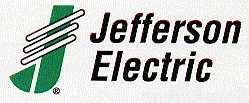 In August of 1996, Jefferson Electric, Inc. became independent of MagneTek and is now located at 9650 South Franklin Drive, Franklin, WI, 53132. This is about 11 miles south of downtown Milwaukee. They manufacture dry type transformers such as Single or Three phase encapsulated or cabinet style, Drive isolation, Non-linear, Buck-boost, Industrial control, Low or Medium voltage, Pool and Spa.
The "Dutch Secret" and Jefferson Electric Clock History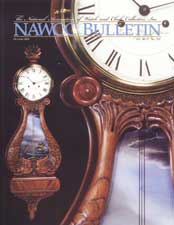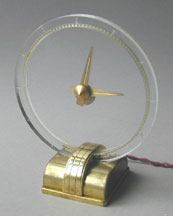 Written by Roger Russell and published in the NAWCC Bulletin (National Association of Watch and Clock Collectors) October 2004 Page 600 [6 pages]
See The Clocks of Leendert Prins
The Dutch Secret may be the clock that inspired the president of Jefferson Electric to create the first of their clocks, the Golden Hour. The Golden Hour was sold essentially unchanged for 41 years starting in December of 1949. I also describe the history of Jefferson Electric and all the other clocks that they made over the years.
The Dutch Secret is unique in that the ring is made of Plexiglas and is illuminated by a light in the base. It was made in Holland, perhaps in the late 1930's or early 1940's, and operates on 240 volts and 50 Hz house current.

My Experience with Jefferson Clocks
My first contact with a Jefferson clock was in 1976 at an auction in Chatham--Cape Cod. I bought a non-working Golden Minute clock for 25 cents. The motor turned, but the gear at the end of the motor gearbox didn't. The Golden Minute had been discontinued in about 1966. Jefferson only occasionally had replacement motors and didn't have any in stock at that time. I disassembled the motor gearbox and found that a gear had worn through the cogs in another gear. By shimming the offending gear up with a thin washer, a new gear surface could be engaged. The clock was still running after more than 20 years.
In 1984, I purchased a new Golden Hour clock from Jefferson for $70.00 to use in another room. It also still runs today. My next encounter was at a flea market in Conklin, NY. There was a Golden Hour with good appearance, but it didn't run. Motors were still available from Jefferson, so I bought the clock for $9.00. After later finding that Jefferson might close, I purchased some extra motors for spares.
The Golden Hour and several other models are plated with real 24kt gold. Several of the parts are machine made, such as the hand subassembly. This would be very costly to duplicate today. The date of manufacture can be found on most Jefferson clocks by removing the two screws on the base. The date is stamped on the inside of the frame, but is not always clear. There is sometimes a date on the motor, but it may not always be the original motor.

Jefferson Clocks in the Movies
Keep attention to the background in some movies and TV shows. Now and then there's a Golden Hour clock sitting there just waiting to be found by you. How many have you seen? There may be quite a few. Here's one that I recently saw where there's a Golden Hour in the background. Contributions are welcome.
The Long Walk Home (1990) starring Sissy Spacek and Whoopie Goldberg.
The Game (1997) starring Michael Douglas.
The Doomsday Flight (1966) starring Jack Lord (Hawaii Five-O), Edmund O'Brien and Van Johnson
The Golden Hour was displayed blatantly in several shots after 37 minutes from the beginning.

I'm looking for sales literature, advertising, price sheets and even past employees who could fill in more of this most interesting Jefferson Electric history.

Other Clock pages I have created
| | |
| --- | --- |
| | Etalage, Etalage Reclame, Magic Crystal, Sonic Industries Inc., Monitor Equipment Corp. MagiClock, Boots Boy and Rex Cole. |
| | Includes the Golden Secret and new battery operated mystery clocks |
Other pages I have created and personal information.

Sorry, I don't know the present value of these clocks.

More text and pictures about Jefferson will be added as my research continues. Any comments, corrections, or additions are welcome.

Email to
rogerr4@earthlink.net

Created by Roger Russell
All rights reserved