Jefferson Intermezzo
By Roger Russell
These pages are copyrighted
No portion of this site may be reproduced in whole or in part
without written permission of the author.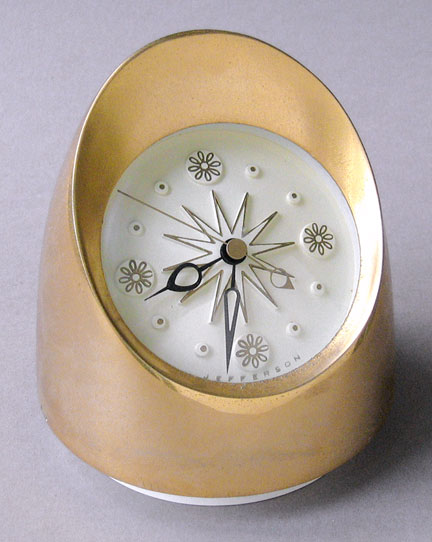 Catalog Number 580-251
The Intermezzo was also designed by Dave Chapman's organization after the success of the Jefferson 500. Mr. Chapman's design firm was respected internationally and served such clients as Alcoa, The Parker Pen co., The Hamilton Beach Co., The Corning Glass Co., Johnson Sea Horse Motors, International Harvester and Montgomery Ward. The Intermezzo is referred to as a cordless electric clock. It is spring driven, but uses batteries for power. As the spring unwinds, a set of contacts closes and a solenoid then acts to rewind the spring. The contacts are then disconnected. This cycle repeats automatically with an audible "clunk" about every 2-1/2 minutes.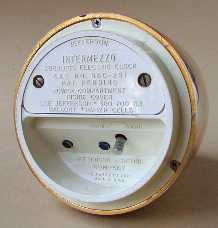 The dial cover is domed plastic. It has black hour and minute hands and a gold second hand set against a white cameo dial background. Raised circles with a gold floral design are at 3, 6, 9, and 12 o'clock. Smaller raised circles with a gold dot are at the other hours. A large raised white star figure with gold edges is in the center. It points to all the hours. The case is shiny 24k gold plate finish on the outer surfaces and satin gold plate in the area immediately surrounding the dial. The base is high-impact plastic (Cycolac) with a satin white surface.
The clock face is slightly conical rising to a peak at the center. The hands are angled back slightly. The name Jefferson is at the bottom of the dial. Size is 5-1/4"H and 4-11/16" in diameter at the widest part near the base. The plastic base raises the clock 7/16" above the mounting surface. Weight is 2.1 lbs. In 1962 this sold for $29.95.
The battery cover states "Use Jefferson #580-700 or Mallory RM 12R cells". These are 1.35V mercury cells and are no longer available. Fortunately, two AA alkaline batteries can fit and will power the clock nicely for about a year. The battery compartment can be opened by removing two screws in the base. A time set knob is located next to the battery compartment.
About This Site

More text and pictures about Jefferson will be added as my research continues. Any comments, corrections, or additions are welcome.

Created by Roger Russell
All rights reserved