McIntosh XRT22 Speaker System
A History
These pages are copyrighted.
No portion of this site may be reproduced in whole or in part
without written permission of the author.

Over the years the XRT20 was very popular and sold very well in the United States, Japan and other countries. The XRT22 was a restyled and improved version.
The bass cabinet contained two 12" woofers and one 8" mid-range. As in the XR19 and later versions of the XRT20, The lower woofer covered the range from 20Hz to 150Hz. The upper woofer went from 20Hz to 250Hz. The use of two different woofer crossovers reduced interference between the woofers in the upper bass where the distance between them was significant compared to 1/2 wavelength of the sound being radiated.
The woofers were vibration isolated from the cabinet using cast aluminum mounting rings and foam tape. Our research, using an accelerometer attached to the cabinet in many areas, showed that additional internal bracing did not effectively reduce cabinet vibration. It only shifted the areas of maximum vibration to other areas that were not braced. Our method of woofer vibration isolation virtually eliminated all cabinet vibration and any consequent secondary radiation from the cabinet surfaces.
The 8" mid-range was contained in a sealed enclosure and covered the range from 250Hz to 1500Hz. The bass cabinet grille was changed to cover only the front of the cabinet. Gordon Gow found that by extending the grille to the top of the bass cabinet, the appearance was much more acceptable.
The tweeter column was changed to be one continuous piece of wood like my original XRT20 prototype. Early versions of the XRT22 columns were made of solid oak or solid walnut. Later versions were veneered high-density particleboard and the grilles had a small radius in the corners. Twenty-three 1" soft dome tweeters were used. The tweeters were wired in series parallel with a 16 ohm series resistor in one group.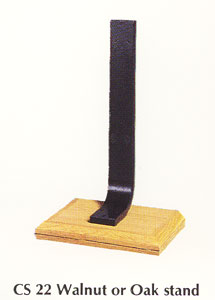 The column width was the same as the XRT20. It controled the tweeter rolloff at 1.5kHz. I confirmed by measurement that making the column narrower did not support the lowest tweeter frequencies and that making it wider gave it too much low end. Tapering the width of the column from bottom to top was ruled out. That caused a change in response at different heights that could be easily heard and measured out in the listening area.
As I described in my original design and patent, the tweeter column offered several advantages. Each tweeter could easily handle 10 watts of steady sine wave power at 0.3% distortion, making a program power handling of 250 watts very conservative. The high power handling made a low crossover frequency possible as well..
Over the years, we found the soft woven textile dome tweeters to be superior to the metal and plastic dome tweeters. The Philips soft dome tweeter was custom made for McIntosh. I specified a special undercoating that was not their standard production. This damped out a resonance that would otherwise be significant. The plates were rectangular to allow close vertical spacing. The column was only 1-5/8" thick. It could be hung on a wall with a single heavy-duty picture hook, or mounted on an optional CS22 stand. The vertical response was greatly reduced above and below the column extremes. As a result, floor and ceiling reflections were drastically reduced and more accurate sound reproduction was achieved.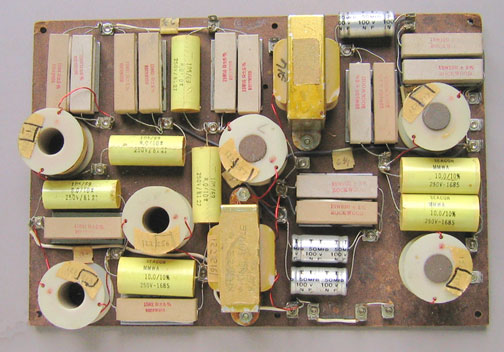 This was the original XRT22 crossover wiring sample that I made for production. It was also used as the standard crossover for the test procedures. Various pieces of tape and markings were added by production people to easily identify parts and wire lengths. This board survived many years of handling.
Typically, crossovers such as Butterworth, Chebychev and Linkwitz-Riley were nice as a starting point. However, the finished crossover didn't necessarily resemble any of these. As in other McIntosh crossover designs, the components were adjusted to produce the correct acoustic phase and response in the crossover region. Passband adjustments were also made if necessary.
The credenza shape of the bass cabinet was acceptable in the home. In addition to presenting an attractive shape, the two angled sides reduced reflections from the tweeter column when it was placed near the bass cabinet. They also provided some non-parallel interior cabinet surfaces to reduce standing waves. The edges of the tweeter column were angled to match the bass cabinet.
By using the tweeter columns on the insides of an XRT22 stereo pair, the arrival time between the bass unit and the tweeter column was very satisfactory in the normal listening area. Also, a spacing of 8" was recommended between the edge of the tweeter column and edge of the bass cabinet. If the column was closer than 8", there could be reflections from the shallow sides of the bass cabinet. If the distance between the center of the bass cabinet and the center of the tweeter column was greater than 1 meter, the system could be perceived as two separate sound sources.

Japanese Award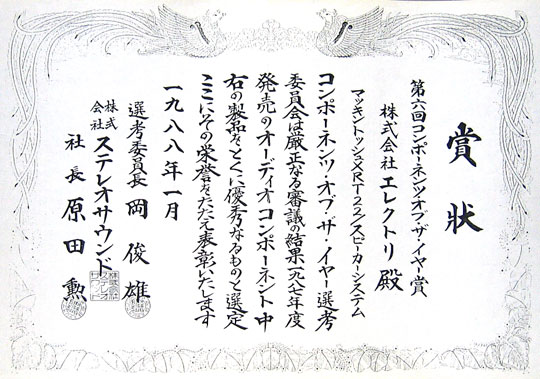 In January 1988 the XRT 22 speaker system was selected as the most superior product among all of the audio components available during 1987. The award was issued to Electori Co., Ltd. By Isao Harada, President of Stereo Sound Co., Ltd.

After the design was completed, the work was far from finished. I prepared a bill of materials for the entire system. The bill of materials was divided into subassemblies. If new parts were used, I wrote out a new part number request describing the part and the vendor. For the crossover subassembly, I made a pictorial layout of the board, including the location of the holes, where solder lugs were to be riveted. There was also a wire list specifying the wire size, color, lengths and connectors. If the drivers were made by McIntosh, a separate bill of materials was also included. The packing bill of materials was provided by engineering. I wrote the production test specifications for the crossover boards, drivers and finished systems. I also provided a sample wiring board for production. Production occasionally sent boards or drivers to the lab for testing if they were outside of the test of limits.
In addition to all of this, I was involved in writing the owner and service manuals. The owner's manual contained a description of the design features and the system components. There was a brief description of the circuitry as well as the specifications. The service information contained schematic diagrams and pictorials of the crossover board. Specifications were also included.
There were often several printings of the owner's manual. The cover appearance was sometimes changed and minor changes sometimes made to the text. There were sometimes changes made to the service information as well. If there was a change in the circuitry or parts, a new service information might be issued with the corresponding serial numbers indicated on the cover. If the changes were minor, a service bulletin was issued instead. Each issue of the manuals and bulletins could be identified at the back or on the bottom. For example, the back cover of this owner's manual had the numbers 039-823.

I am pleased after all these years that my column solution to power handling and my patent has continued to be successfully marketed by McIntosh. It has been almost 30 years since I had constructed the first prototype. The advantages of the column in home systems are too good to ignore. See my page about my experience with columns.

Here is an appreciative letter from a customer (TH) sent to me by Bill Tandberg
at Hi-Fi Haven in Whittier, CA.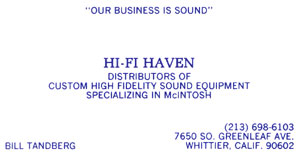 TASTING THE McINTOSH XRT-22
April 29, 1988
THE STARTING POINT
I had wearied of what seemed to me a "lifeless" sound from the so called "High Fidelity" Long Playing records and had all but given up on tinkering with recorded music until the compact disk surfaced and I heard the full and accurate sound that was possible from a recorded source. With this exciting new development in sound I quickly decided to upgrade from my older McIntosh equipment to the very latest McIntosh apparatus. The McIntosh XR-19 speakers appeared an ideal choice for me because they were powerful enough to fill my large listening room, were beautifully housed in a handsome walnut cabinet, and most importantly, produced a dazzling spectrum of sound that included a profound bass, as well as the clean, sparkling treble range so often lost in a fog of confusion with many speakers. So, I have been enjoying the beautifully sweet and oft times thunderous sounds of the XR-19 speakers for several years. I was inspired by the sound of the McIntosh XR-19 and its vertical row of in‑line radiators (tweeters, mid‑range & woofers) arranged around a single vertical axis, and additionally the low‑frequency crossover for the two 12 inch woofers. These seemed to be important concepts in producing a clean, in phase, musical picture, and the larger XRT-20 speakers lacked these seemingly important attributes. My thought was that having different portions of the radiating surface offset from a vertical axis certainly should produce out-of-phase relationships between the various speaker components when compared to the original recorded signal. For me, most listening is done within 15 feet of the speakers, so I assumed any horizontal displacement of speaker elements along the vertical center axis would be detectable as a loss of clarity, dimensional imaging, or some other undesirable trait.
I have never listened to the once fabled XRT-20 speakers which were the top of the line when I purchased the XR-19's. I didn't imagine the XRT-20 speakers could be more articulate than the XR-19's, and I did not feel I needed the extra power the XRT-20's could dissipate. I loved the sound and appearance of the XR-19's. All the XRT-20 seemed to offer was 12 more tweeters - tweeters that were offset/displaced from the central axis of the mid‑range and bass speakers, and, in addition, no low frequency crossover was listed in the specifications as with the XR- 19's. Added with these concerns was the significantly greater cost and unavailability of local XRT-20's for listening. Had I taken the time to search out and listen to the granddaddy of the McIntosh speakers then, I might have had a different approach to tweeter columns now. As it was, I fell into trying the XRT-22 while still not liking or wanting a system with columns. I was still resisting the appearance and idea of columns even after the XRT-22's had been set up. Then I listened to them - that astonishing impact of sonic beauty that dazzled the senses. I was still resistant to changing my entrenched ideas, but after a short period of listening my unyielding notions began to dissolve under the stunning ecstasy of acoustic beauty that now engulfed me.
SPEAKER SPECIFICATIONS
The specifications of the XRT-22 are impressive. They weigh in at a hefty 258 pounds per column and main speaker unit. So a pair is twice that amount. Not something you'll want to drop on your toe and hauling them home will require more than a cute little compact car. The cabinet work is first rate quality, and can be had in either oak or a richly colored walnut.
Electrically they are equally impressive with a 250 watt, 20 to 20,000 hertz, continuous sine wave rating. That means you can plug them into a clean power source operating in the 20 to 20,000 cycles per second range while continuously putting out 250 watts of electrical power, and leave the speakers buzzing away forever without them melting or bursting into flames.
The input impedance is 8 ohms (nominal). Crossover Frequencies are 100, 250, and 1500 hertz. The 100 hertz crossover affects the output of the two woofers, and is partially responsible for the wonderful detail that is evident in all the bass frequencies. Electrical connections for input and the separate column are located on the back side in a small recessed area near the bottom of the cabinet. A five amp fuse for overload protection is also located in this recess. The main speaker cabinet contains one 8 inch mid‑range, and two 12 inch woofers. Cabinet dimensions are roughly 26 inches wide by 40 1/2 inches high by 13 inches deep. According to Roger Russell at McIntosh, whom I spoke with briefly, the XRT-22's utilize a newly designed bass speaker which he said is much more distortion free and uniform throughout its range than bass speakers used in earlier designs.
The tweeter columns are fairly heavy and can either be hung on the wall, or mounted on optional stands. Construction is anything but flimsy. The solid wood frame surrounds what appears to be a rigid steel trough which, in turn, holds the twenty three 1 inch tweeters. Column measurements are approximately 10 1/2 inches wide by 79 1/2 inches high by 15/8 inches deep ‑ not including optional stands. A steel ring near the top of the column provides a method of hanging the column on a wall. Caution is in order here as the column is heavy so whatever supporting hook is placed in a wall must be affixed into something solidly constructed. Column stands are optionally available as a set (2 each) and weigh about 37 pounds for the pair. They are nicely constructed and seem to provide adequate support for the top heavy columns.
With the incredible dynamic range available on today's Compact Disks these speakers should be used with some discretion. Many disks contain passages with very low volume levels which can unexpectedly build quickly to booming crescendos. I doubt you'd damage the XRT-22's, they'll put out most anything you could pump into them, but the McIntosh Service Contract that comes as part of the purchase price will not cover any reconstruction costs to your home or loved ones.
THE LISTENING ROOM
My listening room is roughly 20 feet wide by 35 feet long with an open beam sloping ceiling averaging about 10 feet in height. One long side consists of glass doors and large glass windows, while the other is mostly wood paneling and a fireplace. The floor is carpeted. Furniture is sparse as I like a room that is open and airy. The main listening speakers sit at one end approximately 11 feet apart. Each main speaker is driven by one McIntosh MC-2500 Stereo Power Amplifier strapped for a total single channel output of 1000 watts continuous. This configuration, and power output, was chosen for enhanced musical clarity rather than for loudness.
Two additional rear speakers (McIntosh XR-7) are employed and utilize a Sound Concepts SD-550 Time Delay System for hall "ambiance" restoration. The "restored" signal is amplified with a McIntosh MC-2200 Stereo Power Amplifier with an output of 200 watts per channel. The rear speaker volume is adjusted so as to give the effect of filling the room with sound, but not so loud that the rear speakers will be noticed as distinct points of radiation. Most visitors never notice the rear speakers at all. Only when they are pointed out, and they stand directly in front of them, do they notice their audible presence. Even when near the rear speakers the source still appears to remain with the front speakers. Delay times are set in the 25 to 35 millisecond range. Absolutely no enhanced or modified signal is fed to the front speakers.
Equalization of the room/speakers was accomplished using a Soundcraftsmen AS 1000 Auto-ScanAlyzer to calibrate and adjust the actual in‑line equalizers consisting of two dual-channel Soundcraftsmen Differential/Comparators (Model DC-2215). One equalizer is used for the front speakers and the other for the rear (reverberation) speakers since both front and rear sets of speakers are individually equalized for room characteristics.
ONE FATEFUL DAY
One late Saturday afternoon, almost by accident, I stopped by to visit Bill Tandberg of Hi Fi Haven. Several of us seasoned "Hi Fi Haven-ers" were sitting around chatting about unimportant stuff and somehow got into debating the sound of the new McIntosh XRT-18 speakers. We wondered how the super-duper XRT-22 speakers would sound, and theorized what they could do. I was not an adherent of tweeter columns, and was concerned about the vertical axial displacement of various speaker components and its effect on the sound reproducing system. As the conversation progressed, Bill Tandberg (Hi Fi Haven) mentioned he might get a pair of XRT-22's for demonstration in the store. Before long I had somehow agreed to take them home and give them a listening and comparison test before they were installed in the store for demonstration purposes. Bill understood that I often can hear detail within sounds that are helpful for evaluation, and that I would not race off to Brazil once I had the speakers home. I agreed to test the speakers against the XR-19's and write up something that Bill could show other customers as a lay persons evaluation, so the following Monday they, the XRT-22's, were ordered.
THE DAWN OF TRUTH
The XRT-22 speakers were set up, moving aside the veteran XR-19's, with the columns mounted on their matching furniture floor stands. I intended to work with the XRT-22 speakers and learn how to use and listen to them for a couple of days before I tested them against the XR-19's. This listening test against the XR-19's never happened! Even before the XRT-22's were equalized for my room it was instantly obvious that they were spectacularly different than the XR-19's. Any comparison test already was of no interest to me. My initial impression was that the treble and transient high frequency data is so accurately delivered, and with sufficient power, a superb feeling of surrounding presence is manifest that is not matched by speakers less capable of delivering massive amounts of highly accurate tweeter energy.
Next, the speakers were equalized using a Soundcraftsmen Analyzer so that the entire frequency spectrum from 20 to 20,000 hertz was being delivered at an apparently equal sound level. For the first time, with any speaker I had personally equalized, I was able to adjust the 15,000 hertz octave at a power level high enough to achieve an equal sound pressure level compared to lower octave bands. Always before, I set the 15,000 hertz octave adjustment all the way up for maximum output - and it was never enough. Now, it wasn't at maximum and there was additional power available if I needed it! Apparently, the "circular" arrangement of the 12 tweeters in the XR-19 speakers could not deliver enough power at a specific point as each tweeter unit was pointed in a slightly different direction. The XRT-22 differs in that you have 23 tweeters looking almost directly at you!
The radiation pattern of the XRT-22 is nothing short of amazing. You can walk around to the side of the high-frequency columns and the sound is still there! You have to be almost directly at the side of the column before the sound begins to quickly attenuate. However, as an experiment I hung the columns directly over, and in line with the center of the bass speaker cabinet, to see what differences I could notice. Now, the equalization curves for the upper bands were noticeably different, and I was not able to obtain enough audible energy in the 15,000 hertz octave to equalize this band. Furthermore, the listening test produced unexpected results. For this room, the effect was one of painful confusion in all upper octaves; and comparatively the bass seemed overly intense. Also, if my position, or listening level, dropped much below the bottom line of the columns, the entire treble section quickly, and dramatically, diminished in volume. Its almost like the radiation pattern is a semi‑circle of sound when looking down from the top of the column, but that semi‑circle is somewhat flat at the bottom. Possibly all tweeters emit a "flat semi‑circle" shaped pattern. With the columns mounted over the bass cabinets, the tweeter emitted confusion I heard would probably be apparent to even a deaf person. A friend with me at the time also noticed the same effect. I'd liken this acoustic outcome to looking up through 23 layers of sound and experiencing hearing all the layers at the same time with each being out of phase with all the others.
After going to all the trouble to hang the heavy columns safely at high altitude, I quickly re-hung them at a height about the same as if the columns were mounted on their stands. The speakers were then re-equalized to compensate for the lowered column positions. By hanging the columns on the wall I can get them a few inches closer to the bass speakers then if they are mounted on the column stands. A secret of column placement appears to lie in having the columns positioned at a height so that the average level of the listener's ear (standing vs sitting) is near the mid point on the height of the tweeter columns. This is what you get when you use the column stands. I don't know why this seems to work, but I notice that when my listening level moves to the lower (and probably upper) edge of the columns, as when lying on the floor, I am at an "edge" at which the volume and impact of the high frequency columns begins to decline. I have not bothered to climb a ladder to see if the same attenuation occurs at the top end of the columns.
When the tweeter columns are positioned as described above the musical results are so rich that I have little inclination to continue poking holes in my wall to test other speaker positions, and I have no further interest in comparing the XRT-22's to the XR-19's. Not that the XR-19's are poor speakers by any means, rather, the XRT-22's are so very distinct to my ears a comparison seems a futile effort when I could be enjoying this new musical extravaganza instead. I can only speculate on how McIntosh engineers were able to so perfectly harmonize 23 distinct points of high frequency radiation into the feeling of a "single point source" of sound. It's as though a secret process has been discovered to coordinate all the infinite acoustic complexities into one complementary whole. The masterful blending is so articulately complete that to describe it in cold type is to disgrace the elegance of the XRT-22.
THE TASTE OF MUSIC!
I have no way of really describing the effect and sound of the McIntosh XRT-22 uniform field speakers. To my ears, the balance of sound is spectacular. I can move around the room and have no feeling of having to adjust the volume to compensate for my position. The presence of the reproduced music is astonishing. Even the cannon shot from Telarc Compact Disks was handled well, and music was clearly evident through the duration of the cannon blast. According to the meters on the amplifiers, the power output during some of the cannon shots equaled, or slightly exceeded, 800 watts per speaker. The speakers didn't seem particularly disturbed by these explosive blasts, but it is frightening to remove the speaker grills and watch the bass speaker cones move with such extreme excursions. The moving parts of the bass speakers become a blur of motion. Even though the XRT-22's seem to take it in stride, I hate to subject the speakers to such intense mechanical punishment for fear that flaming debris will be violently ejected out into the room. As you may well imagine, two speakers pounding out 800 watts each of cannon in one room (add another 200 ‑ 300 watts of reverb from the rear) dims the lights and slaps the ears with a concussive wave. It's the first time I've ever had my ears feel a tinge of pain from something "musical" out of a bass speaker. Talk about a cannon blast impact! What a jolting surprise these babies could have on your unsuspecting friends!
I thought the XR‑19's were incredible, and they are, but the feeling of a third dimensional, or spatial, placement of the orchestra, or whatever you're listening to, is quite noticeably improved with the XRT-22's. The sound of the music is exceptionally "solid." It's just "there," and it is normal for me to have the feeling of the artist(s) being present in‑the room with me. Sometimes I even catch myself hearing a passage and spontaneously looking to see if some phantom musician is actually sitting nearby.
All my misplaced concerns regarding the displacement of the tweeter column from the center axis of the other radiators have been assuaged. If I stand between the two sets of speakers I can indeed hear a slight timing difference between the column and bass speaker cabinet. This difference is more evident for any sharp change in intensity such as a drum strike. Interestingly, this difference does not exhibit itself as distortion in the sense of something painful, but rather a displacement resembling an echo. To be sure, the spatial imaging is altered when standing between the speakers, but by just stepping back a few steps the sound is beautifully blended and transparency restored with any axial misalignment somehow magically unimportant. At a distance of approximately 10 feet the blending of the bass and column radiators is near perfection. At distances of 15 feet or more the blending is perfection. However, these may not be the speakers for you if you plan to put them in a shoebox sized room; and if you plan to hang the hefty 23 tweeter columns on the wall be sure to use hooks that won't pull out under a heavy load. A 100 pound rated picture hook nailed into one-half inch wallboard or plaster is doubtlessly asking for disaster. If hanging weighty columns on a wall doesn't appeal to you use the column stands available from McIntosh instead. They work well but require more floor space then I want to devote. The column stands are well made with adjustable feet that extend from the back side providing enough support to keep the mounted columns from easily toppling over backwards. The column stands come two to a box in a kind of "screw it together yourself' kit. They are easy to assemble, and the scant instructions are adequate.
The quality of the recording is paramount if you really want to hear what these speakers can do. Recordings poorly made will sound correspondingly poor. Naturally, a recording with distortion will not sound pure and clean, but the XRT-22's will reproduce the recorded distortion flawlessly. How ironic that a cheap inarticulate speaker may actually make a terrible recording sound better than it truly is, but only because the pitiful speaker cannot reproduce the incoming signal. It is important to note that while the third dimensional feeling from these speakers is phenomenal, it can be easily lost if the recording was improperly miked or over mixed, and many disks I've tried are "flat" due to audio engineering ineptness. Some disks are naturally "flat" due to the type of recorded material, synthesizers being a case in point. Blaming the speaker for these recording shortcomings is altogether inappropriate. Most compact disks I've played are superbly demonstrated by these speakers. Even some disks that contained marginal overloading or distortion of the recording media, such as massed orchestra & chorus, often show remarkable improvements in clarity over the XR-19's.
It was quite a lesson for me to realize just how much of the musical score comes out of the column assemblies. There is much more going on in the tweeters than often meets the ear, and until I was facing a speaker array that could deliver the real stuff I didn't notice the true importance of "tweeter deliverance." Even for deeply bass musical tones a large amount of data in the form of harmonics and transient data comes out of the tweeters. I hadn't even dreamed of how much I was not hearing without having sufficient tweeter driving force. I now feel that one, or even a few tweeters, in a speaker assembly most likely cannot deliver what is really needed to give you the balanced realism that is now possible with these powerful XRT-22 transducers.
Even old LP's sound better. The feeling of presence is hardly comparable with a Compact Disk, but nonetheless, for someone with a large collection of LP's they dearly love this speaker/amplifier system might work miracles for them. It sounds like much of the high-frequency stuff that normally escapes, or is minimal with LP's, is brought fourth with greater clarity and solidness. I really enjoyed listening to several old LP's that I had assigned to the collectors heap.
A FITTING FINALE
Several persons with good listening credentials have enjoyed hearing MY (Yes, MY ‑ they are not leaving here!) XRT-22 speakers. Without exception, and at the first few musical notes, mouths have dropped, and eyes have shown the surprised astonishment at what the ears were hearing. You may never have experienced speakers with even a near potential of the XRT-22, and before you do experience this distinct level of speaker efficiency you may expect to hear a set of powerful, perhaps painfully loud, speakers that can crack thick concrete slabs at 40 yards. They may be able to do this, but one thing that sets them apart is their proven ability to deliver intense sound pressures with extreme accuracy as well as offering the most delicate of tonal beauty at the lowest of levels too. Even at high volume these speakers are not discomforting to me in the sense of most speakers. Perhaps it is their articulation and freedom from distortion that makes them so pleasant at almost any volume level. If you use an amplifier or other components that clip or create distortion the resultant radiated sound may indeed be quite painful, but it will be accurate too! By using a good high quality, sufficiently powered amplifier system (McIntosh) the sound inspires with equal elegance the softest rumble to the most piercing trumpet with extraordinary presence and lucidity. It is no exaggeration to say that these speakers communicate an indefinable majesty that the human body loves to hear and feel.
SOME CLOSING ILLOGIC
Why would anybody buy these expensive contrivances of nothing more than a box filled with various things that vibrate? Especially considering that you could probably go to any good swap meet and easily purchase the latest "Electro‑Zapper Deluxe guaranteed to faithfully reproduce the realistic sounds of a sustained Atomic War for only $49.95 - including self contained high-fidelity amplifiers capable of intermittent output of 17.5 watts. Another consideration might be the expectation that in just two years McIntosh will introduce the Zortan-28 super speaker with 24 inch woofers and an array of 74 blast-o-matic tweeters. So why invest in speakers at all?
I am investing in the McIntosh XRT-22 speakers simply because my ears like them. The essence I am loves to be enveloped by an exhilarating and realistic acoustic environment. I could list many subtle, and not so subtle, reasons for my choice, but the magic comes from the total of all the subtleties combined into one masterful unit. I am not interested in being intellectual and examining every tiny facet in excruciating detail. I just want to bathe in the resulting nirvana. And perchance something comes on the market that is even more realistic and thrilling... I want to know about it. In the meantime, I shall be listening and living in heaven!
Find a good XRT-22 installation and check out these newborn marvels for yourself. Decide the merits of pleasurable speakers from your own experience, and not from rumors or tall tales. The XRT-22's employ some of the latest scientific audio techniques known to man. Crafting a superb speaker is as much an artistic endeavor as is painting a valuable Rembrandt. If you can't hear the difference over what you're used to hearing ‑ don't buy them. And if your think they are too much money, go make 'em for yourself. I know I could, given lots of time and sustained interest. Frankly, I rather do something else, and just buy the speakers ready to go and enjoy them now! I don't want to wait 40 years for my musical ship to come in. Be reasonable. Stop and consider how many years of effort and time consuming research have gone into the production of these versatile speakers. Imagine taming billions of combinations of sound waves so they work in perfect concert. Now complicate the job by insuring that all these mixed up tones must be in perpetual harmony from the lightest tinkle to the most thunderous roar. Even if you already had the skills, schooling, and technical know-how, and you just had to go out and buy/lease the electronic test equipment, the mechanical manufacturing machinery, acquire the needed raw materials, and create a facility to test and figure out how to put the stuff together you might just want to reconsider any notions about the price being unreasonable. Remember, all the work has been done for you, years and years of it. Think of all the blunders, redesigns, and dozens of previous speaker failures and successes that have brought McIntosh speaker technology to its present state of artistic perfection. So take a tip from me and go buy a pair of McIntosh XRT-22's right now; and if you don't already have a good hi-fi system to make the speakers work McIntosh provides exceptional pre-amplifiers and power amplifiers too. All you'll have to do is simply go home and enjoy the finished results.
POSTSCRIPT
It has not been my intention to malign or put down any of the smaller McIntosh, or for that matter, any other quality brand of speaker. There are many other speakers on display at Hi Fi Haven that I have enjoyed, and continue to like. Any speaker you choose should be appropriate for the specific conditions for which it is to be used. Different speakers may be more suitable than others depending on the type of music you like, room size, and the type of entertaining you do. I still very much like and admire my seasoned XR-19 speakers. I am excited and enthusiastic over the XRT-22's because they perfectly fit my room, listening desires, expectations, and will faithfully interpret any type of music or special effect I want to hear with an the dynamics I can ever hope to want.
Not everyone wants a large hi-fi system. I have some wonderful friends that truly want nothing more than casual "elevator" music. Anything they might really listen to would be too much trouble for them. The XRT-22 is definitely not for these people. And there are often times when I, myself, wouldn't use such an elaborate setup. For example: I enjoy listening to the crummy little speakers in my car when I'm driving somewhere. A large system in my car would be unproductive as I couldn't physically fit in the car along with it. But, if you have the space, and if you enjoy hearing music at its best, the McIntosh XRT-22 uniform field speakers are definitely something you must consider. At least give yourself the taste test and hear them in action!
ONE HAPPY WEEK LATER
A NEW REALIZATION
The fireworks and excited, exaggerated sounding statements to friends have passed slowly into the contented normalcy of standard fare I'm now used to enjoying. What ...! You mean I'm already burned out on what I had just a week earlier termed an astonishing achievement of mankind! Perhaps, but since the initial excitement has worn off, my listening has become more attuned to the naturalness and transparent beauty of the listening experience. I am hearing so very much more, but now, rather than vaulting into the air shouting aggrandizing statements, I am simply relishing the pure and delicate music that encircles my appreciative ears. I now "expect" as normal and commonly everyday what just a short time ago seemed a thrilling advancement. The dichotomy of comparing my feelings a week ago to now are amusing. The sound is the same, but my reaction is so totally different. If I plunk down hard cash for a front row seat at some musical extravaganza I'd probably find it thrilling, but I'd not be bobbing up and down screaming about it as something new and unusual. It's the same at home, I sit in the "front row" of any musical extravaganza I choose and literally think nothing of it. It's normal everyday stuff. I don't listen to hi‑fi anymore ‑ just music. That's right ‑ MUSIC! I just realized, I haven't been hearing the hi‑fi system! How incredible! Why hadn't I noticed this earlier? That's really something to shout about! What a compliment to NOT notice the hi‑fi system! Wow... How easy it is to ignore the obvious. Uh‑oh, what if something happens and I am forced to listen to hi‑fi again? Fortunately for me, McIntosh equipment is conservatively engineered and built like a tank. What better insurance for the future?
CHANGES IN THE WIND
My listening has altered immensely since the introduction of the XRT-22 speakers. How? Most noticeably is where I now sit when listening. I used to locate about 10 to 12 feet from the speakers for the combination of volume and dimensional spacing that felt so good to me. I don't know why I choose this distance except that it just "felt" good. Now I'm situated at 20 or more feet and feel ' good" in a large area of my listening room. I don't feel "locked" into special positions, or areas, for maximum enjoyment as I once experienced. It seems that just about any position I choose retains the original impact and presence of the performing artists. Furthermore, I can go about various chores in a kitchen area extending off the rear of my listening room without loosing the feeling of presence or having to adjust the volume to maintain the same level of listening enjoyment.
On a more subtle plane, the music seems to enfold itself around me in a gentle caress, and after being with these new speakers for a while it becomes more evident that my initial impression, perhaps due to excitement, was actually quite superficial compared to what I am beginning to appreciate with relaxed, and sometimes critical, listening. I find it a little like savoring a fine wine. Your first taste might notice only the gross qualities, but as you become more familiar you begin to fully appreciate the more refined gradations of aroma and taste. So it is with the McIntosh XRT-22 speakers. Time is required to fully appreciate and sense the careful blending of engineering and art into a unified whole.
Often, the results of careful listening with the XRT-22's is whimsical. Frequently I clearly hear the musicians moving about or dropping some tiny object. On one notable disk the sound of a door slamming shut is clearly audible in the background while the orchestra blithely plays on. Yesterday, I played a disk of Beethoven's 4th Symphony. Although I'm sure it was unintentional, the orchestra sounded like it had just graduated from High School. Much of the score was played with a semi professional character, while some of the more discordant sections sounded just like that High School Concert where your kid was part of the orchestra. Remember? You applauded anyway! The sound was great! It sounded so real I couldn't help but earnestly enjoy listening and "pinpointing" the sour musicians in this comic performance. I could easily locate their unambiguous position. In the old days, before these powerfully realistic speakers, a "sour" recording was usually just a wearisome experience. Now I could find the errant players, and have fun too! This ability to hear many humorous and unplanned background events may not strike you as a reason to invest in speakers such as the XRT-22, but, in fact, this almost comical attribute is a major reason to demand such grand speakers.
If your current sound system cannot pass these often hidden parts of the total recording on to you with ease, you should consider what else your old fashioned system is hiding from you. Truthfully, do you really think you can hear what your precious recordings can offer when your system excludes certain types and ranges of sound? Is a poor imitation as good as a bona fide gem? Most of us would consider attending an authentic performance a prize; so why then do we often place more value on a recorded reproduction that lacks many of the qualities we genuinely treasure? Why is it we sometimes place the greatest value on the least accurate reproduction when it resembles our "picture" of what we wish to think is true? We then claim our system is the best, when the truth is it couldn't endure the comparison test of an actual live performance. I have have been guilty of this as well as the next person. One thing I have gradually learned through experience by carefully equalizing and maintaining a "lifelike" high fidelity system is that my former acceptance of the standing resonances and imbalances in both the room and electronic system had gradually perverted my sense of "good" hi‑fi music into an "exaggerated and booming" bass with rolled off high and transient frequencies. Many hi‑fi enthusiasts even today say they prefer the booming "tunnel like" bass and the "less-harsh" sounding treble as a sign of excellent high fidelity reproduction. This is particularly prevalent for those long accustomed to only a simple bass or treble adjustment and/or the vintage LP's, once the vanguard of superb quality. I also used this same criteria as a ruler for selecting a worthwhile system. When I first accurately equalized the entire sound spectrum of my system for a balanced "lifelike" sound I was disappointed in that it no longer sounded like the adulterated result of hi‑fi systems I was so used to hearing and thinking were the "right" choice. Almost immediately, however, I adjusted to this "different" sound and have become exceedingly appreciative of the "Lifelike" virtues that had been entirely lacking before. Once I had advanced into this new world of understanding and pleasure, my goal has been to hear all the minute detail, dynamic range, and lifelike spirit that is possible, and never again to hide from the subtle and realistic details of true life.
Powerful passages are particularly different than earlier speakers I've heard. I notice immediately the lack of confusion when the speakers are really belting it out! There is exceptional cleanness in all tones from bass to extreme treble ‑ no matter what the speakers are doing. Massed orchestra with a large chorus is a wonderful listening experience. Even if the original recording suffers slightly, the distinction of separate tonal voices is remarkable. For each Compact Disk I've played, whenever the musical intensity increases to a mighty roar the transparent clarity of minute and intricately exquisite tones remain flawlessly intact and distinctly clear. Still more impressive is the way a strong bass presence can suddenly rush out and fill the room with deep vibrating tones of exciting intensity. Its spine tingling when these sonic eruptions are physically felt too, and as the room shakes in harmony the thunderous bass remains just as immaculately clear as ever. How, in the midst of this maelstrom of fierce musical stimulation, can the speakers seem so untaxed and relaxed as though nothing unusual was required from them at all?
LIFE EVERAFTER
It's almost impossible for me to imagine the speaker diaphragms being able to accurately follow the countless combinations of sometimes violent motions required to drive the surrounding atmosphere into exacting motion. The engineers at McIntosh have certainly done their homework to perfect the electric and mechanical interfaces which must be seen and heard to be properly appreciated. When I feel massive amounts of acoustic energy pouring into the room, and when I concurrently feel the unaltered precision and attack of even the most elusive of delicate nuances, I get tingles along my spine, and sometimes goosebumps on my skin. Yes, the initial burst of fireworks has ended, but the divine afterglow and sensual warm feelings of inspiration go on.
‑ TH ‑

XRT22 Specifications
Response: 20Hz to 20,000Hz
Power rating: 250 watts continuous, (500 watt occasional peak)
Output sensitivity: 87dB/watt/meter re: 8 ohms
Impedance: 8 ohms
Woofers: two 12" McIntosh
Mid-range: one 8" McIntosh
Tweeters: twenty three 1" custom soft domes
Crossover frequencies: 150Hz, 250Hz and 1500Hz
Overload protection: main fuse
Finish: walnut or oak
Dimensions: Bass section: 40-3/4" high, 25-3/4" wide and 12-3/4" deep
Dimensions: Tweeter column: 79-1/2" high, 10-1/2" wide and 1-5/8" deep
Weight: Bass cabinet 95 lb.
Weight: Tweeter column 61 lb.
Sold from 1986 to 1993
Last retail price: $9100.00 /pair
CS22 Stand
Finish: Walnut or oak
Shipping weight: 37 lb./pair
Last retail price: $600.00/pair

About This Site

More text and pictures about McIntosh will be added as my research continues. Any comments, corrections, or additions are welcome.

Created by Roger Russell
All rights reserved