Heathkit Monaural-Stereo High Fidelity Preamplifier
Model SP-2 and SP-2A
By Roger Russell
These pages are copyrighted.
No portion of this site may be reproduced in whole or in part
without written permission of the author.

The Heath Company was very popular for kit builders in the 40ís to the 60ís. The SP-2/2A stereo preamplifier was introduced in 1958. This was the beginning of stereo for Heath and was the first stereo preamp for them. In the early days of Hi-Fi there may have been some confusion between the terms monaural and monophonic. Although the manual stated monaural, it should have said monophonic. Monaural means hearing with one ear and Iím sure this was not what they intended.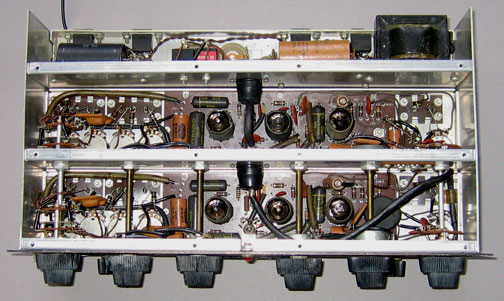 The SP-2 was sold in two different versions. The SP-2A had an A channel for mono and the SP-2 had both A and B channels for stereo. Each channel subassembly had a separate chassis but there was a common power supply. Either version was housed in the same cabinet. The stereo version, shown above, had dual concentric knobs. The mono version shown below had only one preamp subassembly and had single knobs.

The SP-2 had several unique features. The input and output jacks were located underneath the cabinet. It also had input and output level controls that were located under the cabinet. This may explain why there are feet, which then allow space for the plugs and for the wires to turn and exit. The most unique feature was the remote balance control. This came with a 20 foot cord and control housed in a small rubber holder. Although a normal balance control can be turned to the maximum position so that only one channel will play, the Heath remote provided for only 7 dB of gain reduction in either channel. However, this was more than adequate for music. If the remote balance control was not used, the left and right channel knobs on the preamp could be adjusted separately instead. A unique 4-prong connector, shown at the right, was used to terminate the cable assembly. The corresponding 4-prong socket was located under the preamp on the B chassis.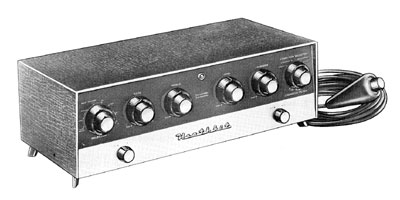 But why am I so concerned with this particular piece of equipment? First of all, I assembled one of these back in 1957 and used it for my stereo system. Second, it had a remote balance control. How many pieces of equipment today have a remote balance control? I donít know of any. Although remote controls are very common these days, apparently manufacturers have decided a remote balance function is not needed. I didnít either, until recently, when I created a new speaker design that could resolve imaging and balance better than other systems. Then, using the new speaker system, it became obvious that a few recordings definitely needed a slight adjustment for correct balance. This was often only a matter of a dB or two but made a big listening difference if you wanted to always listen at a front and center position.
If a preamplifier is located conveniently within reach, the preamp balance control could be adjusted but if it is necessary to turn your head or move to reach the control while making the adjustment, then proper balance becomes a trial and error process. This is where a remote function comes in handy and then you can keep your head in the same listening position while making the change. Of course, a wireless control is preferred these days. Although I do not use this preamp any more for listening, the idea of a remote balance control can be adapted to present day preamps. Unfortunately, it would still require a cable.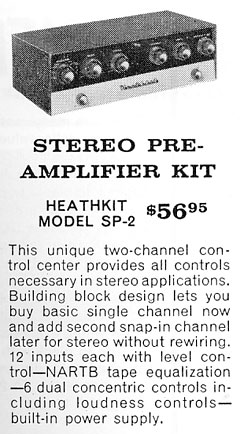 This SP-2 advertisement appeared in the August 1958 issue of Audio magazine
SP-2 Specifications
Inputs: Tape head, Magnetic phono, Microphone, Aux 1, Aux 2, and Aux 3.
Input sensitivity for 2.5V RMS output
Tape Head 0.002 volts at 1 kHz
Microphone 0,015 volts
Magnetic phono 0.002 volts at 1 kHz (with level control at maximum)
Auxiliary 1, 2 and 3 0.25 volts (with level control at maximum)
Input impedances:
Tape head 100k ohm load resistor at input socket
Magnetic phono 47k ohm
Auxiliary 1, 2 and 3 0.6 megohms
Level controls:
Magnetic phono, Auxiliary 1, 2 and 3 500k ohm
Output level set 10k ohm.
Load impedance:
To power amplifier 200k ohms or more
Tape output 200k ohms or more
Response:
20 Hz to 30 kHz +/- 1 dB
15 Hz to 35 kHz +/- 1.5 dB
Harmonic distortion at 2.5 volts output:
2,5 mV at tape head .82% max
6.0 mV at magnetic Phono .90% max
20 mV at microphone .8% max
0.25 V at auxiliary inputs .6% max
IM distortion:
1 volt output .54%
2.5 volt output 1.4%
Hum and noise:
2.5 mV at tape head input 50 dB or more below2.5 volts RMS
6 mV at magnetic phono input 65 dB below 2.5 volts RMS
20 mV at microphone input 65 dB below 2.5 volts RMS
0.1 volt at auxiliary inputs 75 dB below 2.5 volts RMS
Tube complement:
2-EF86, 2-12AU7 and 2-12AX7
Dimensions:
15Ē wide, 4-5/8Ē high (not including feet) and 7-13/16Ē deep
Cabinet:
Vinyl-clad steel; has leather texture in black with inlaid gold design.
Control panel:
Black with gold lettering. Trim strip is gold anodized aluminum (brush finish) with black lettering.
Weight:
11 lbs.
Created by Roger Russell
All rights reserved