Welcome to My Art Page
Copyright by Roger Russell
All rights reserved
No portion of this site may be reproduced in whole or in part
without written permission of the artist.
"Art is the technology of the soul" Ayn Rand
Paintings and Crafts
Other pages about my work

For many hundreds of years some painters were needed to record real life as accurately as possible. It was the only means available. However, even with this sort of "accuracy" in art, each artist saw the world slightly differently and certainly experts could recognize an artist's unique style. A few artists, however, were more revolutionary in their creations and initially had difficulty finding acceptance. Then along came photography that replaced the need for a painter to capture real life. Sometimes the camera captured portraits too accurately and photo touchup or soft focus lenses were used to make pictures of people more pleasing. With the advent of photography, artists were then truly free to exercise creative expression for whatever they felt. There was no need to resemble real life at all if the artist visualized things differently and this form of art became more acceptable. Georgia O'Keefe went to art school in New York City. In school, she became tired of trying to please others, including instructors. She decided to paint the way she wanted and became a very famous artist.
When it comes to abstract art, it may not look like anything to you and you may be wondering what it is supposed to be. Perhaps this satisfies a primary need of the brain to fill in a blank space—even if it isn't what the artist had in mind. "What is it?" or "It looks like….." might be typical reactions. When viewing other types of creations, it is necessary to let go of previous conditioning. Let your thoughts go neutral and then let the entire visual impact of color, form and organization sink in. These are new experiences and need to be approached with a different attitude than what we are used to when viewing art.
A similar parallel can be made in music composition. The use of an orchestra of conventional instruments has produced some excellent and moving sounds. The sound of each instrument can be easily recognized by the characteristic array of harmonics that it creates. However, in synthesized music, there is literally an infinite number of different "instrument sounds". In fact, the potential of electronic music implies that there is no limit to the possibilities except the imagination of the composer.
And so abstraction is a freedom of expression for all artists. Paintings or other media can be new and unconventional works that have no relation to real world objects at all. The objects can be symbols. The shapes can have an interrelation between them, and so on. Sometimes, even the old rules of composition can be thrown away as in Jackson Pollock's work, but even then there is a method including the making of the art.
I do not consider my works to qualify as anything that a critic would look at twice. It is the art of my world as I see it. I have included a description of what was running through my mind when I first thought of these. Later, as I sketched them out, I added to the ideas and changed them until they looked pleasing to me. You might think of the descriptions to be equivalent to what you might learn with a tour group in an art museum.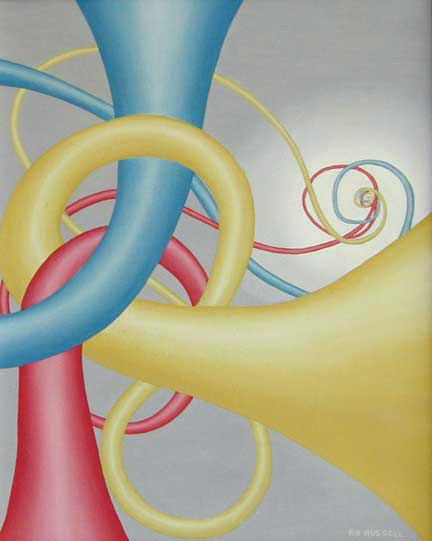 This simply says that intelligence, no matter what or where it's origin, ultimately arrives at the same universal truths. The paths can represent the course of individual development. They could just as well represent the development of civilizations or worlds and their accumulated knowledge in pursuit of the truth.
It was inspired while reading a book from the International Society for General Semantics. The book is Explorations in Awareness by J. Samuel Bois.
This original is an oil painting done on canvas. Size is 20" X 16"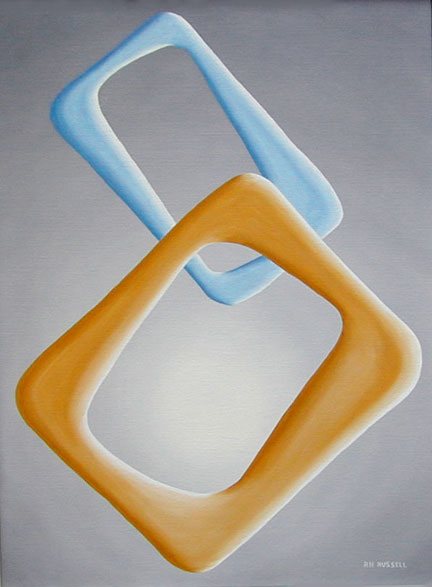 This comes from a dream more than anything else. It could represent two different life forms that travel together through the emptiness of time and space. The life forms are different yet similar. They are like separate islands yet they remain close together—even overlapping in some places. Their ultimate destiny is somewhere below them. It could represent the path of their life together. Their fate is not yet known
This original is an oil painting done on canvas. Size is 24" X 18"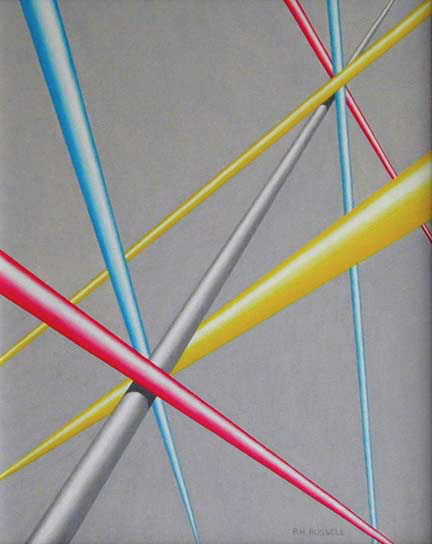 It may be hard to believe that I was inspired by a photograph of blades of grass in the early morning sunlight with fog in the background. I was intrigued by the way the blades crossed over each other. The two crossings are different yet similar.
This original is an oil painting done on canvas. Size is 20" X 16"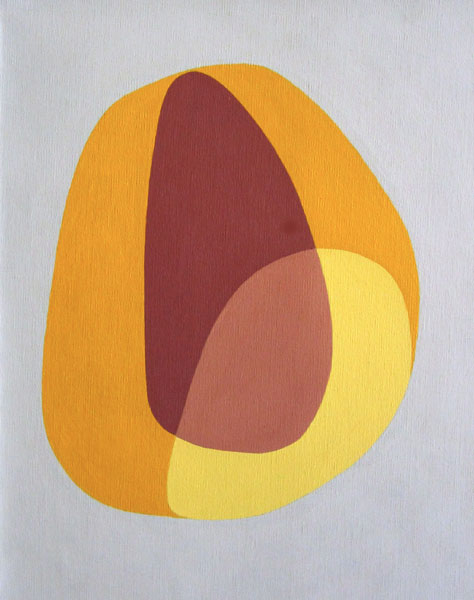 Familiar or alien, I have left this untitled for the eye of the beholder.
This original is an oil painting done on canvas. Size is 20" X 16"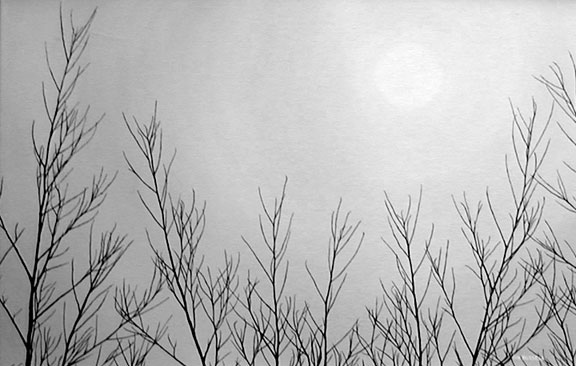 Perhaps this painting is only a little abstracted. On my many walks during the winter months in upstate New York, I observed this very kind of appearance of the sun as a snowstorm approaches. Along the roadside were sweet clover plants that still stood before the first storm. This is symbolic in the sense that the sun that furnished the energy for them to emerge, grow and flower is now changed. Although their hollow frames still reach for the giver of life, they no longer live. Only their seeds survive for the spring to come.
This original is an oil painting done on canvas. Size is 24" X 36"


We all use labels to classify and categorize what we perceive. A non-Aristotelian approach classifies everything as either black or white. However a more realistic approach is that there are many shades of gray in between.
Perhaps the different sizes represent experiences that we have encountered and our intensity of response. The shades may signify whether these are peripheral or core beliefs and are further emphasized by the orientation. The bottom dark gray label may represent a core belief with a white peripheral belief that altered the core belief.
This original artwork is 14" X 67-1/2" on a Masonite board sprayed with black paint. The labels are individually cut pieces of Masonite that are spray painted and glued onto the board.

This is sort of a fun thing but it also has a deeper meaning. The yellow surface layer is what we perceive; perhaps what we read or hear but the truth below is hidden. Deeper layers also block the truth but contain further information. The number of pieces decreases as the truth is revealed and becomes simpler. The succeeding layers are darker meaning that the truth becomes more difficult and perhaps impossible to find. The bottom layer may represent the truth but is almost black and is hard to see in this picture as it is in life.
This original artwork is 14" X 67-1/2" on a Masonite board sprayed with black paint. The colored stratas are individually cut pieces of Masonite that are spray painted and glued onto the board.


How do you communicate color? When someone says "blue," to you, what comes to mind? Here's one particular shade of blue. Is this the shade? But even if you were to guess correctly, there's still the question of the degree of blue that the other person is trying to convey. It's almost but not quite as difficult to communicate the color blue to a person who has been blind all of their life.
This original artwork is 11" X 38" on a Masonite board sprayed with black paint. The colored panels are individually cut pieces of Masonite that are oil painted and glued on top of each other. The same blue color is gradually mixed with white to make the different shades.

This is sort of a fun thing also. Here are four complete scenes. Each is divided into 40 pieces and transposed to four different panels. The corresponding location of each piece in each panel is the same as the original location in the original scene. If you were able to visualize all the pieces of only one of the scenes, you would be able to tell what each one looks like.

Each original panel is 8" X 10". The pieces are mounted on a matte board.


Here is something completely different. The entire artwork is made of multiple layers of colored sand. I felt that a textured surface added much more interest. The original sketch was scanned into a computer for revisions and color selection. Then it was transferred to the final surface. This was the most time consuming of all of my projects and was completed in March, 2012.
This original artwork is on a 17-1/2" X 48" Masonite board coated with white primer paint. The entire project including the rear supporting board weighs only 7 pounds.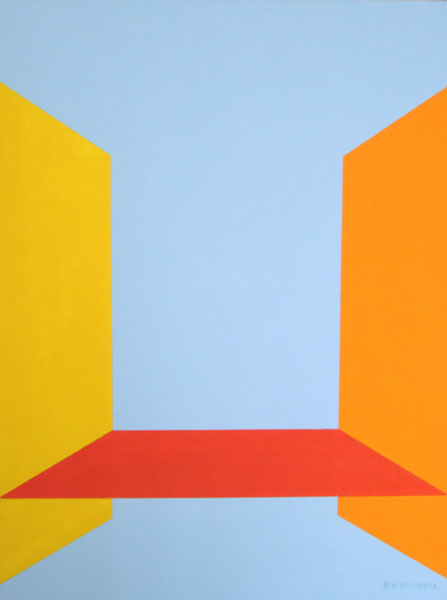 This was inspired by a picture I took in a hallway in Mexico a few years ago. I used Adobe Photoshop to arrive at the colors and Word Art for the final shapes and orientation. Then it was an easy transfer to canvas. I think this would look even better on a much larger canvas and then on a large wall. The painting was finished on July 15, 2012. This original artwork is 24" X 18" made on canvas with acrylic paints.

In 1975, 1976 and 1977 I entered the annual Arena Art Open that included awards, exhibition and sale. This was usually held in the month of May and was at the Broome County Arena, Binghamton, NY. 4 foot by 8 foot Panels could be rented for about $15.00 each. I exhibited 11 X 14 black & white photographs for one year and oil paintings for two years. Although I never received any awards or sale of my work, it was exhilarating to be able to exhibit my work. It made no difference whether you were a professional or only a hobbyist. What was even more interesting was that it was up to the viewer to decide whether they liked the work or not, regardless of who created it. Here's a photo that appeared in the Press & Sun Bulletin, May 29, 1976. 560 artists participated in this show exhibiting up to 2000 art works. Vincent Price had visited the show and bought a particular piece of art for $450. Much to my disappointment, the shows were discontinued in 1979.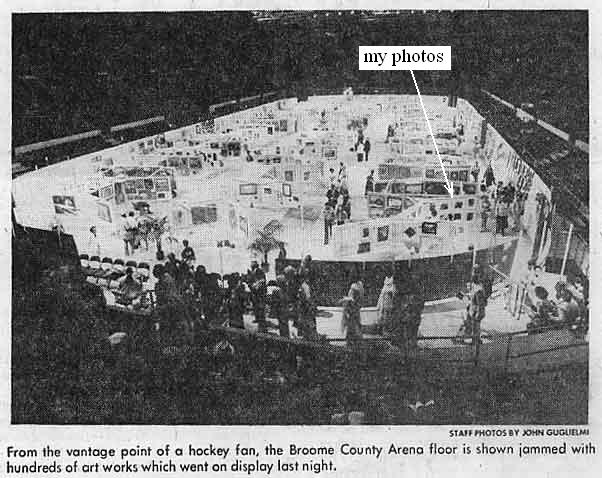 Here is what I exhibited during those three years.


Here's some of my earlier work.
I believe that all artists, professional or amateur, have their good works and their not-so-good works.
I wasn't going to add some of these to my page but—why not?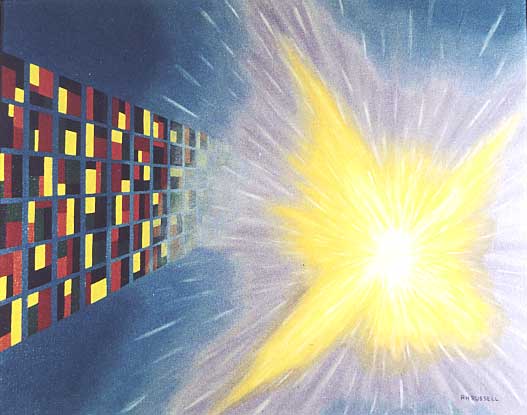 This could be an energy source such as light and it could represent the truth as we find it in nature. It may contain an entire spectrum of different wavelengths. It could also be a book, whose author covers a broad spectrum of subjects. In either case it is not what the source consists of but how the source is interpreted. Each of the panels at the left could represent individuals. Each panel reflects several colors, or words, from the source but none reflect all of them. Are we like a filter? We hear what we want to hear and we see what we want to see.
This original is an oil painting done on canvas. Size is 24" X 30"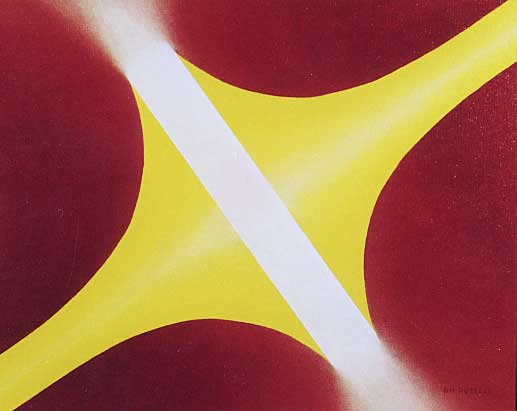 This was inspired by my work in loudspeakers.. I was in the storage room one day and noticed a couple of horn speakers facing each other. I wondered if this would be worth painting so I tried it.
This original is an oil painting done on canvas. Size is 16" X 20"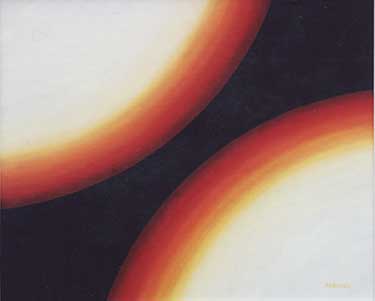 Sometimes I see exhibits where the work is titled "Untitled" and I am disappointed. I know I shouldn't be, particularly if it is abstract and I shouldn't be looking for an explanation. Well, this is my first painting and that's my excuse. Perhaps it represents two masses and their close proximity to each other creates an area of tension. Or is it a diagonal line that is expanding at the ends faster than at the center and at the same time radiating something like heat waves? Perhaps it's none of these.
This original is an oil painting done on canvas. Size is 16" X 20"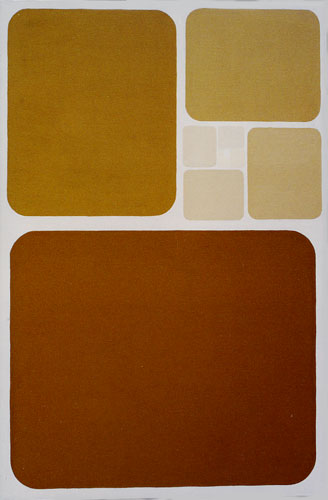 The divine proportion is a mathematical relationship. It can be found in nature. One example is a spiral found in things like seashells. I thought I would try my own version. The entire painting is a golden rectangle which can be divided using simple rules into smaller and smaller rectangles.
This original is an acrylic painting done on canvas. Size is 24" X 36"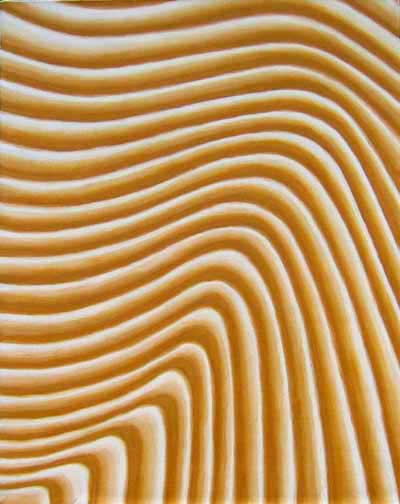 Sand can be found with all sorts of ripples from wave action. This creation is more of a progression of simple curves unlike any sand formation I have ever seen.
This original is an oil painting done on canvas. Size is 16" X 20"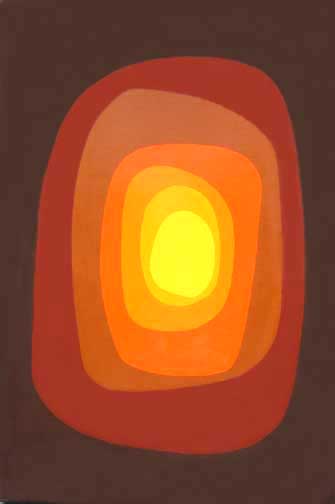 This is the only painting that is not one of my original designs. I must confess I was intrigued by a rug pattern that I saw in the Phoenix mall many years ago and I just had to try it on canvas with my own color scheme. It's still sort of interesting but no big thing.
This original is an acrylic painting done on canvas. Size is 24" X 36"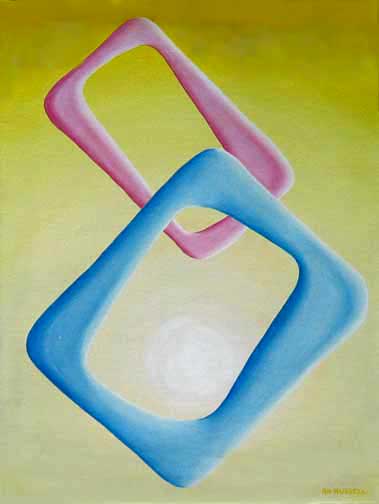 This was my original painting of The Passage. However, I decided I didn't like the colors. The improved version is shown earlier on this page.
This original is an oil painting done on canvas. Size is 18" X 24"
About This Site

More text and pictures will be added to these pages as time permits. Any comments are welcome.

Email to
rogerr4@earthlink.net

Created by Roger Russell
All contents are copyrighted
All rights reserved