The Legacy of Paul Voigt

By Roger Russell
These pages are copyrighted
No portion of this site may be reproduced in whole or in part
without written permission of the author.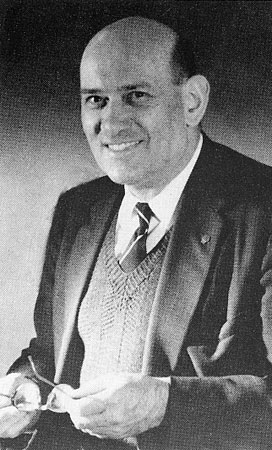 Paul G. A. H. Voigt was born in London on December 9, 1901. He was educated at Dulwich College and University College, London, receiving a B Sc. degree in electrical engineering in 1922. Among many other audio contributions and 32 patents, he can be credited with the first high flux energized speaker drive unit and horns using the "Tractrix" contour. While with the Edison Bell Works in London, Voigt started work on his loudspeaker. When the company went under, in 1933, he set up his own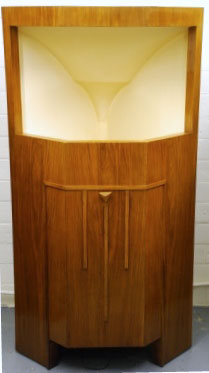 company "Voigt Patents, Ltd." based in Sydenham, London. Under agreement with Bell, he remained the owner the 19 patents that he received on his ideas. The domestic corner horn (at the right) was released in 1934 and set a new record for high quality sound reproduction. This unique design gave an extremely lifelike non-directional presentation with the sound entering the room at a height between 3 and 5 feet from the floor.
A unique feature of the Voigt designs is the use of a single driver that covers the entire frequency range. This is done using a mechanical crossover, commonly known as a whizzer. The driver then consists of a main cone and a short cone both of which are attached to the same voice coil. Bass frequencies are radiated by loading the rear of the driver with a folded horn enclosure. In addition, Paul took great pride in designing the drivers with very high efficiency and concentrating very high flux density in the magnetic gap. This was accomplished using a very small gap making the centering of the voice coil very critical.
About this time Paul met O.P. Lowther from the Lowther Manufacturing Company and eventually this resulted in a merge between the two companies.. This became Lowther-Voigt Radio.
During the war, Paul was kept busy maintaining his horn speakers installed in cinemas. After the war, priority was given to the design of a new driver using new magnet materials and drive unit having a flux density of 18,000 gauss (1.8 tesla). It was released in 1949
Unfortunately, due to poor health and slow sales, Paul decided to move to Canada with his wife in 1950 and set up North American sales for his new designs. The company folded because of the Korean War. He taught electronics for a while and then moved to Ottawa and worked for the Canadian Government in Radio Regulations. He retired in 1969 and pursued other interests.
He died on February 9, 1981 leaving a legacy of his inventions. Geoffery L. Wilson wrote a glowing memoriam about him in the April 1981 issue of the Journal of the Audio Engineering Society. Paul Klipsch contributed and mentioned that Paul Voigt was one of the unsung pioneers in audio. Donald Aldous also write a nice memoriam in the June issue of Audio magazine. More information can be found at the Lowther Museum.
I did get a chance to speak with Paul Voigt following the 1974 Audio Engineering Society (AES) meeting in New York City. We talked about several things but I gathered that he had some reservations about how his invention was being used at Lowther and things were not as amicable as I was led to previously believe. The next day he was presented with an honorary membership in the AES. I also found it strange that neither memoriam mentioned his association with Lowther, although other companies were mentioned.
Meanwhile, Donald Chave, who was previously Lowther's chief engineer, had bought the company after World War II. He finally developed the PM-1 driver using the Voigt cone assembly. Before Paul had left it was agreed that Lowther would produce the domestic corner horn under license. About 400 corner horns were produced between 1934 and the early 1950s. Chave later expanded the products and developed new drivers based on the early Voigt units.
Stewart Hegeman was also involved with Lowther in the early 1950s. In 1951 Lowther released the incredible "Lowther Hegeman" reproducer, which was three-times the price of a Lowther Voigt domestic corner horn. The enclosure was four feet wide, four feet tall and two feet deep.
The newly-developed PM4A drive unit was used inside a large horizontal plaster horn, giving an amazingly wide dispersion of mid and treble frequencies. It was a result of a collaboration between Stuart ( British spelling) Hegeman and Donald Chave of Lowther. Later in the 1950s, Hegeman and Chave also developed the Harman Kardon Citation X driver. Lowther still exists today although similar drivers are now being sold by other companies as well/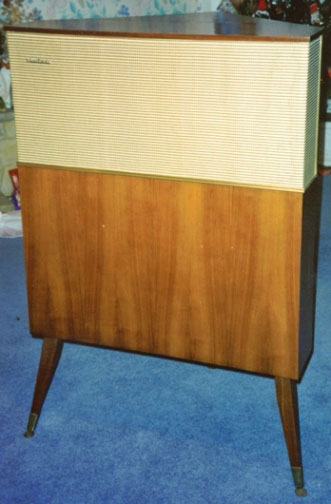 Early versions of the Lowther TP-1 speaker system had the driver in a box protruding top of the enclosure. It used the PM3 driver that was based on the PM2A. Flux density: 21 Tesla, Impedance: 15 ohms, Power Handling: 6 watts. The PM3/5A driver is an improved version having a flux density of 23.2 Tesla. The 1968 TP-1D system pictured above has no top on the box
My first audition with the Voigt design was when I heard the Brociner Model 4 speaker system at the 1955 New Your Hi-Fi show. The system was used in the Tetrad diamond room. I was very impressed with the sound. The design was similar to the Lowther TP-1 system made in England. Although only a single system was playing (mono in those days), it sounded very clean and smooth. It did require corner placement. I was only a student then and could not even afford one, let alone two.
Victor Brociner had a business in New York City and made amplifiers and preamplifiers plus the Model 4. He later went to work for University Loudspeakers in White Plains, NY. I was actually interested to get a job there since it was only a few miles from home but they were not hiring. After an evening session at the AES, Victor told me University was an ulcer factory. Then University moved to Oklahoma and soon Victor started his own speaker company called Avid, based in Rhode Island.
In 1952, the Brociner model 4 had been demonstrated in room 602 at the Fourth Audio Fair in the Hotel New Yorker from October 29 to November 1. Other Brociner equipment included the Brociner A100 preamp-equalizer, CA-2 control amplifier, UL-1 Ultra-Linear Williamson power amplifier, Model 250 Transcentent 3-way corner reproducer and the Ductflex coaxial speaker cabinet, In attendance were Victor Brociner and A. Stewart Hegeman. Right next door in room 606 was, McIntosh Engineering Laboratory , Water Street, Binghamton, NY. In attendance were Frank McIntosh and Gordon Gow demonstrating their audio amplifiers. Among others in attendance for Harvey Radio in room 631, was James Carroll.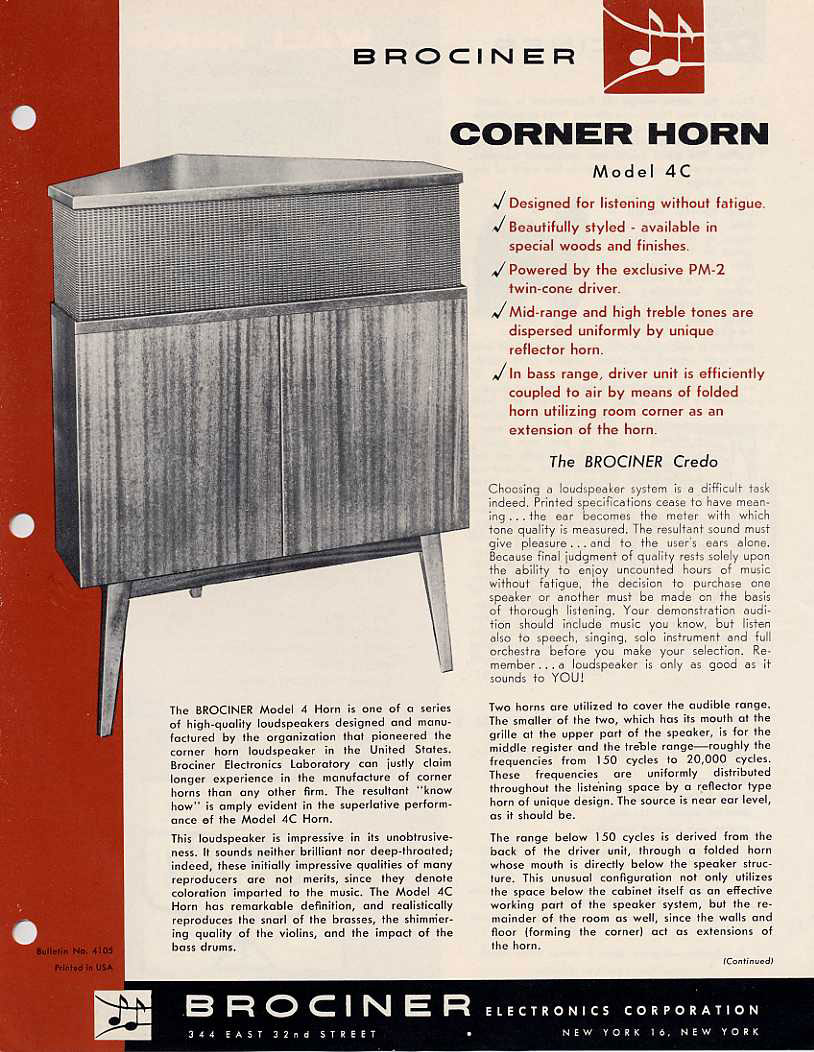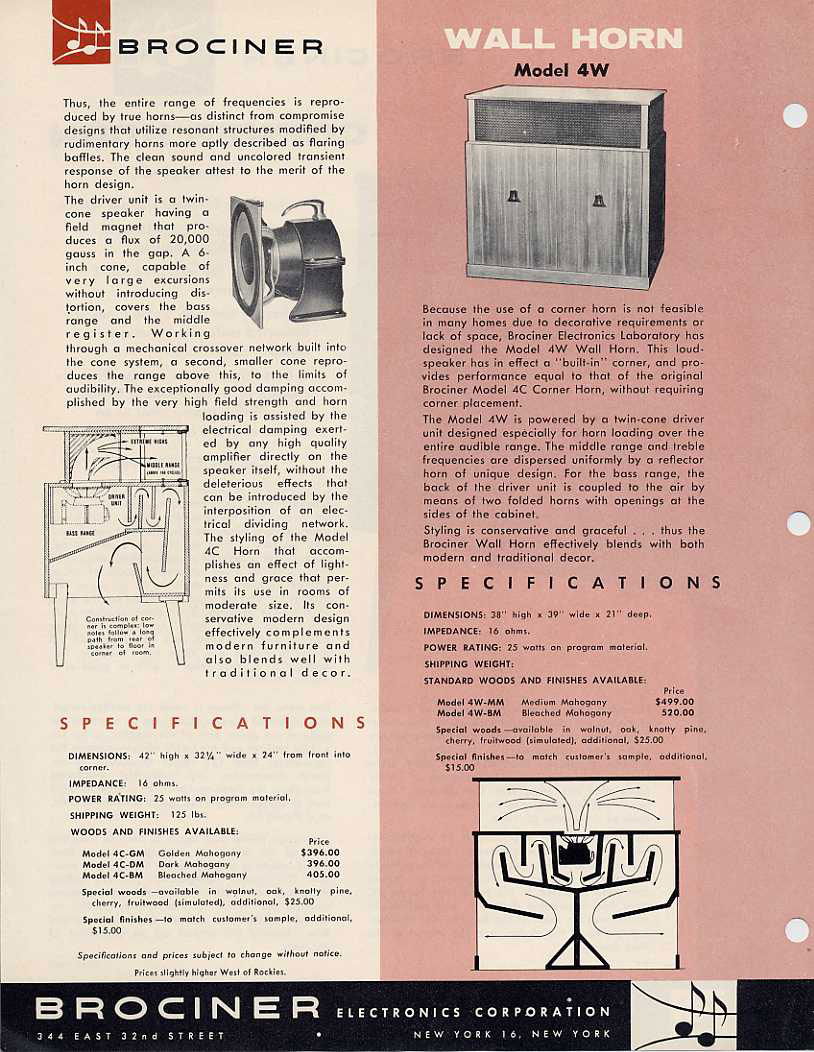 The Brociner 4C used the Lowther PM2 driver
Here is a PM2 driver in need of repair.
About This Site

Created by Roger Russell
All contents are copyrighted
All rights reserved