What Are Haddon Clocks Made Of?
By Roger Russell
Copyright 1996-2004 by Roger Russell
All rights reserved
No portion of this site may be reproduced in whole or in part
without written permission of the author.
The main pieces of some Haddon clocks are made of cast metal. Because of the color and weight, the material could be thought of as brass. Brass is known to be non-magnetic and a magnet placed on the base of a Golden Vision clock is not attracted. However, it seems to be attracted to the cast outer ring assembly.
The truth is that the gear ring inside is made of steel. Once this is removed, the magnet is no longer attracted to the outer ring. There's more to the story, however, and there are other metals besides brass that are non- magnetic.
<![if !vml]>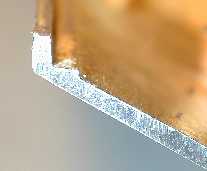 <![endif]>The Golden Vision and some other models are 24kt gold plated. See my Gold Reference Page. The main parts are not made of brass. The base and frame are made of a less expensive alloy casting. A cross section of this Golden Vision base shows the material to be silver colored.
I sent a sample of the base from a 1954 Golden Vision to a highly qualified testing laboratory: Bodycote Taussig, Inc., 7530 Frontage Road, Skokie, IL 60077. They identified the metal as a common zinc alloy 3 per ASTM B86-97.
INTERZINC refers to this as a traditional zinc alloy known as Zamak #3. It was originally developed in the 1930's and aluminum is the major alloying element at a nominal 4 percent. There's a small amount of magnesium and copper. Adding aluminum to zinc increases castability and results in finer grainsize castings and improved mechanical properties. Magnesium is added to improve strength and hardness and to protect castings from intergranular corrosion. Copper further strengthens and improves wear resistance of castings but at the expense of stability (dimensional and property), especially when copper content exceeds 1 percent.
Zinc Alloy Chemistry Zamak #3

Golden Vision Sample

aluminum
copper
magnesium
tin
iron
lead
tin
zinc

3.5 to 4.5%
0.25% (max)
0.02 to 0.05%
0.005% (max)
0.1% (max)
---
0.003 (max)
remainder

3.96%
0.01%
0.035%
<0.001%
0.002%
<0.002%
<0.002%
remainder

<![if !supportMisalignedColumns]>
<![endif]>
The hands are brass but other parts of the hand assembly are steel, including the cone nut. The gear ring and, the motor are made of steel.
A similar test made on a Jefferson Golden Hour clock yielded the same information. The casting is also a zinc alloy, Zamak #3.
About This Site

More text and pictures about Jefferson will be added as my research continues. Any comments, corrections, or additions are welcome.

Created by Roger Russell
All contents are copyright 2000-2004
by Roger Russell. All rights reserved